Ski
I first stood on skis aged three and spent much of my childhood living in Switzerland and Austria, developing a profound love for the mountains and for skiing. After graduating from Durham University, I travelled the world for three years, during which I spent two winters working in Aspen, Colorado.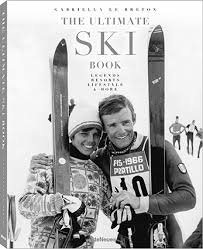 Winter 2007/08 was my first season as a travel writer and I spent it navigating the Alps, researching the Footprint 'Skiing Europe' guidebook, which I co-wrote with Matt Barr. Published in October 2008, the book was adopted by the Ski Club of Great Britain as its official guide.
I went on to write a
weekly column
for
the Daily Telegraph
in Winter 2010/11, visiting a different resort every week for 20 weeks, providing real-time news and snow conditions from some of the world's most popular ski resorts. I revisited the weekly column idea for the Telegraph in January 2017, embarking on a month-long road trip around the Alps.
In October 2015, my book 'The Stylish Life: Skiing' was published by teNeues, a light-hearted and nostalgic account of the evolution of skiing fashion, equipment and resorts.
Following the success of The Stylish Life: Skiing, teNeues published my second, definitive ski book in October 2016: 'The Ultimate Ski Book' to critical acclaim. A revised edition was published in October 2020.
Since December 2019, I have been co-editor of Ski+board magazine, the official magazine of the Ski Club of Great Britain, and News editor for Fall-line magazine, in addition to taking on select freelance work.
Examples of ski features I have written:
WINTER 2020/21
The Telegraph, Ultratravel, December 2020 The most extravagant ski experiences imaginable
The Telegraph, December 2020 Telegraph Travel Experts on 2021
Fall-line, December 2020 Skiing in Scotland
Fall-line, November 2020 57,000 trees and counting - making skiing sustainable
WINTER 2019/20
Telegraph, February 2020 Review of Le Mademoiselle, Val d'Isere
Conde Nast Traveller, January 2020 First In: Le Refuge de Solaise
N by Norwegian, December 2019 Unsung Ski Heroes
Robb Report, December 2019 The Ultimate Heliskiing Yacht
B Inspired, December 2019 Adrenaline in the Alps: why everyone's flying on skis
British Airways, The Club, November 2019 What's New in the Ski World for 2019
Robb Report, November 2019 The new generation of French Alpine hotels
Ski+board, December 2019 From the Archives - Ski Club Parties
The Telegraph, 16 November 2019 The luxury renaissance of Saint-Martin-de-Belleville
Country & Town House, November 2019 Fresh Tracks - What's Hot This Winter
Ski+board, October 2019 From the Archives - Women in the Ski Club of Great Britain
Ski+board, August 2019 From the Archives - Grass-skiing
WINTER 2018/19
easyJet Traveller, February 2019 The Edit: Refuge Montenvers
n by Norwegian Air, December 2018 Sun, Sangria & Ski: Skiing in Spain
British Airways Club magazine, September 2018 Six Unforgettable Ski Weekends
Conde Nast Traveller, November 2018 The 2018/19 Ski Report
The Telegraph, Ultratravel, 11 November 2018 Alpine Openings
WINTER 2017/18
Fall-line, March 2018 Late Season Opening Resorts and 15 Minutes with Millie Knight
Suitcase magazine, February 2018 The Best Ski Resorts for Every Type of Skier
Fall-line, February 2018 Olympic Special - Meet the O Team; 15 Minutes with Dave Ryding; How to train like an Olympic athlete; My Mountain with Emily Sarsfield
Sawasdee for Thai Airways, February 2018 Swiss Swish: Best Resorts near Zurich
Fall-line, January 2018 Fifteen Minutes with Madi Rowlands and A Day in the Life of a La Grave Ski Patroller
n by Norwegian Air, December 2017 18 Reasons to Love Skiing Colorado
The Telegraph, Utratravel, 9 December 2017 Private ski mountains
The Times LUXX, 2 December 2017 Snow Globe: the world's coolest ski destinations
The Financial Times, 1 December 2017 The Ski Maker of London
Tempus magazine, December 2017 Heli-skiing the world
TATLER, December 2017 A Year in the Kandahar Ski Club
Long Island Pulse magazine, November 2017 Top Ski Trips in North America
The Telegraph, Ultratravel, 11 November 2017 Ultraskiing
The Independent, 3 November 2017 What you need to know about this winter
Conde Nast Traveller, November 2017 The 2017/18 Ski Report
Evening Standard, 20 October 2017 Essential Ski Guide to Winter 2017/18
Fall-line, October 2017 News update on GB 2018 Winter Olympic Hopes
The Daily Telegraph, 20 September 2017 36 hours in Kitzbuhel
British Airways Club magazine, September 2017 Ski holidays of two halves
The Daily Telegraph, 19 May 2017 The future of La Grave is finally secure
WINTER 2016/17
The Financial Times, 23 February 2017 Tragedy & Inspiration: the enduring legacy of Matilda Rapaport
Elite Traveler, Jan/Feb 2017 PrivateJet Ski Safari in Colorado
Vanity Fair on Travel, 2017 Weird & Wonderful Winter Breaks
The Daily Telegraph, January 2017: A weekly blog about a month-long Ski Road Trip around the Alps in a VW camper van
Week One: Cost-effective but crazy?
Week Two: Battling the elements
Week Three: Experiencing skiing with a difference
Week Four: Lessons learned from a campervan road trip
The Daily Telegraph, 11 January 2017 The Secret to Skiing Switzerland on the Cheap
Long Island Pulse Magazine, January 2017 Best Alpine Spa Retreats
The Daily Telegraph, 22 December 2016 Austria takes on France & Switzerland in the luxury stakes
The Financial Times, 15 December 2016 The Great White Hope: Val Thorens
Ultratravel, 10 December 2016 What's hot for 2017 - Lech, Austria
The Daily Telegraph, 5 December 2016 Is monoskiing cool again?
Tatler, December 2016 The Definitive Guide to the World's Poshest Ski Resorts
Ultratravel Winter 2016 Snow Wonder: The World's Hottest Ski Palaces
British Airways Club magazine, November 2016 Two-part series on how to ski year round (Part One, Part Two)
The Daily Telegraph, 20 October 2016 On Ski Buddymoon in Zermatt
The Financial Times, October 2016 Taken to Extremes: The Future of La Grave
The Financial Times, October 2016 Village Revival: Alpine Alberghi Diffusi
Conde Nast Traveller, November 2016 The 2016/17 Winter Pursuits Report
WINTER 2015/16
Harrods Travel, Winter 2016 Above & Beyond - Five Amazing Ski Chalets
Vanity Fair on Travel 2016, January 2016 The Best Ski Slopes and Family Ski Chalets
Rolls Royce magazine, Winter 2015/16 Bespoke skis and ski boots
Stella magazine, The Telegraph, 17 January 2016 'Book It' ski chalets for 2016
The Telegraph, 14 January 2016 Ten best luxury ski resorts
The Financial Times, 21 November 2015 Postcard from Lech Snow & Safety Conference
British Airways Highlife magazine, November 2015 Gourmet Ski Guide
Ultratravel Winter 2015 The Best New Ski Chalets
The Daily Telegraph, 14 November 2015 Luxury chalets arrive in Italy
The Telegraph Ski & Snowboard magazine, November 2015 Full Throttle - skiing with Chemmy Alcott
Conde Nast Traveller, November 2015 The 2015/16 Ski Report
British Airways Highlife magazine, October 2015 Ten Best Resorts for 2015/16
Matches Fashion Autumn/Winter 2015 Style Report Ski-in, ski-out chalet luxury
The Daily Telegraph, 20 August 2015 How to become a ski instructor in your GAP year
WINTER 2014/15
Fall-line magazine, April 2015 Ski Trips of a Lifetime
Vanity Fair, March 2015 Best Alpine Restaurants
The Daily Telegraph, 1 March 2015 Ski lodge nirvana in Crested Butte, Colorado
The Financial Times, 7 February 2015 Discovering the Swiss town of Disentis
The Daily Telegraph, 12 January 2015 La Thuile opens its first five-star hotel
The Financial Times, 9 January 2015 The best chalets inaccessible by road
Tatler, February 2015 St Moritz vs Aspen: the battle of the glitz
In the Snow, January 2015 Blow the Bonus: Heierling ski boots
The Daily Telegraph, 8 December 2014 Kicking Horse loses the fear factor
Ski+board magazine Issue Three, December 2014 Ski Tech: Action cameras & child-friendly kit
ELLE, November 2014 Hot Ski Weekends
In the Snow, November 2014 Blow the Bonus: Private Jets
The Financial Times, Pink Snow, 26 October 2014 The Russians aren't coming - the best luxury chalets
Ski+board magazine Issue Two, November 2014 Ski Tech: Avalanche safety equipment
Conde Nast Traveller, November 2014 The Conde Nast Traveller 2014/15 Ski Report
Ski+board magazine Issue One, October 2014 Ski Tech: GPS gadgets, apps & maps
WINTER 2013/14
Tatler, April 2014 Where to go for a blast of late snow
The Financial Times, 24 January 2014 Davos for Dudes: Powder Mountain, Utah
The Daily Telegraph, 28 December 2013 Sharing a family secret: the Val d'Anniviers
Ski+board magazine, December 2013 The best Christmas gifts for skiers and boarders
British Airways The Club magazine, December 2013 Shhhh.... secret ski escapes
Food and Travel Magazine, December 2013 Skiing big name resorts for little prices
Ski+board magazine, November 2013 110 years of Ski Club Great Britain and ski/board equipment
Conde Nast Traveller, November 2013 The inaugural Ski Report
Ski+board Magazine, September 2013 Ski & board equipment for beginners
WINTER 2012/13
The Daily Telegraph, 19 January 2013 The renaissance of Crans-Montana, Switzerland
The Sunday Telegraph, 13 January 2013 LIfting the lid on Revelstoke, Canada
The Daily Telegraph, 16 December 2012 Girl Ski Power in Engelberg, Switzerland
The Financial Times' Pink Snow, December 2012 This winter's hot new properties
Snow magazine, Snow Woman supplement, December 2012 Chalets that glitter, without the price tag
The Daily Telegraph Wintersports Supplement, December 2012 Technology on the slopes
The Sunday Telegraph, 14 October 2012 Skiing on a budget
WINTER 2009-12
The Daily Telegraph, 4 February 2012 Luxury meets apres-ski at the new Mooser Hotel, St Anton, Austria
The Daily Telegraph, 21 January 2012 Skiing with James Palmer-Tomkinson in Klosters, Switzerland
Harpers Bazaar, December 2011 Chic Peaks, South Tyrol, Italy
Gourmet Travel, January 2011 Best gourmet skiing
The Spectator, 20 November 2010 This season's best chalets
The Daily Telegraph, 4 November 2010 Mystery alpine guided tours in Andermatt, Switzerland
The Financial Times, 8 October 2010 Why small ski resorts are stealing the thunder, and chalets, from big resorts
The Daily Telegraph, 7 October 2010 Off-piste skiing in Monterosa, Italy
The Financial Times, 15 January 2010 Learning to ski at pace with Graham Bell in Val d'Isere, France
Spectator Business, January 2010 Three seasoned ski writers select their top resorts
The Daily Telegraph, 20 March 2009 Bri tish Columbia powder triangle ski safari, Canada